LINCO BAXO group of companies is a manufacturing, engineering and marketing organisation for refractory and insulating products with european headquarters in Milan (ITALY), factories in Italy and China (1), subsidiaries in Italy, United Kingdom, Benelux, Russia, Latvia and Austria, distributors, agents and customers worldwide.
LINCO BAXO group of companies is specialised in providing refractory and insulating products combined with technical and advanced solutions by choosing the way of coordination and further specialisation among different international companies.
With more than 70 years of experience LINCO BAXO group of companies is able to solve many different requirements and also meet specific customer needs.
LINCO BAXO group of companies has built up a comprehensive sale/technical organisation; an operation based on rapid response and flexible service.
We have focused on product/market combinations and have accordingly structured our companies into group teams as follows:
CONSUMABLE REFRACTORIES AND INSULATING / DOMESTIC (ITALY)
CONSUMABLE REFRACTORIES AND INSULATING / INTERNATIONAL
ENGINEERING, JOBS AND CONSTRUCTION (WORLDWIDE)
GLASS AND CERAMIC (WORLDWIDE)
In order to meet stringent customers requirements, members of our team pride themselves to be available 7 days a week, 365 days a year.
Please ask for our useful directory of contact numbers and do feel free to contact them at any time.
---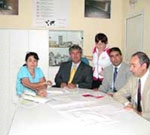 CONSUMABLE REFRACTORIES AND INSULATING/DOMESTIC (ITALY)
The domestic consumables team works for customers in the domestic market (Italy).
Major products include all the refractory consumables grouped into Linco, Baxo, Kero, Maref and Sirma range of products.
e-mail: info@lincobaxo.com
---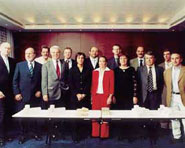 CONSUMABLE REFRACTORIES AND INSULATING/INTERNATIONAL
Linco Baxo export department together with foreign subsidiaries are grouped into the international consumables team.
e-mail: international@lincobaxo.com
_
---
ENGINEERING, JOBS AND  CONSTRUCTION/WORLDWIDE
The engineering, jobs and construction team is composed of skilled technicians able to develop complete projects of refractory linings and associated applications (e.g. structural steel works/foundations). Experience, professionality as well as the most modern equipment allow this team to provide a qualified flexible response to all customers needs.
e-mail: lincojob@lincobaxo.com
__
__
_
__
---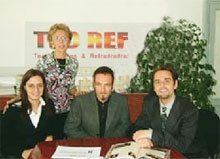 GLASS AND CERAMIC
Glass and ceramic team is committed to distribute tailored refractories mainly manufactured at Bondeno (FE) and Zerbinate (FE) plants.
e-mail: tecrefcri@lincobaxo.com